PRESS RELEASE: 2 DECEMBER 2020
Enfield charity brings Santa to town for Xmas give-aways
Bush Hill Park Primary School received over 70 gifts for pupils and their families, from a local charity called Hearts and Helpers, in the run up to Christmas.
Adrian White, founder of Hearts and Helpers was joined by volunteer Victor Shodiya and Santa, as they delivered wrapped gifts under the school's Christmas Tree, to be given to pupils whose families are in need this Christmas.
Adrian started the 'Santa comes to town' project around four months ago, and it was originally aimed at 30-40 families referred to the charity by Enfield Council.
Pulling on all his resources and offers of help, the positive reactions and donations from the local community was so overwhelming, that he has extended help to many more families in need across the borough.
Adrian, who grew up in Enfield, and lives and works locally, said: "If there are people who need help, I have to do it. I find working in the community and helping families so fulfilling.
"I work with vulnerable people and those affected by homelessness and the more we try to help, the more and more families we are approached to support. Now we work with around 100 people each month, and I'm so happy to be able to extend this help to children and their families in our local schools.
"I want them to enjoy the gifts and to know that they come from a kind, caring community that wants to make them happy."
Joseph McCann, a School Governor at Bush Hill Park Primary School, and instrumental in inviting Adrian to help, said: "It was wonderful to see the children this morning and I am so grateful to be able to help the families in our school community after such a tough year."
Headteacher, Anna Theodosiou, is so grateful for the gifts which will distributed to as many families in need as possible in the run up to Christmas. "Huge thanks to Hearts and Helpers! I can't put into words the difference this will make to our families. We will continue to do everything we can for our school community to let them know that we are here for them."

END
Hearts and Helpers
The charity was started by Adrian White in 2019, who is also founder of independent fashion label Hubert and Calvin. The charity works with communities across London to provide essential goods and services to positively impact the lives of vulnerable people. Follow them on Instagram or Facebook. For their 'Santa comes to town' project visit www.facebook.com/heartsandhelpers and for more information go to www.heartsandhelpers.org or Twitter @heartsandhelpers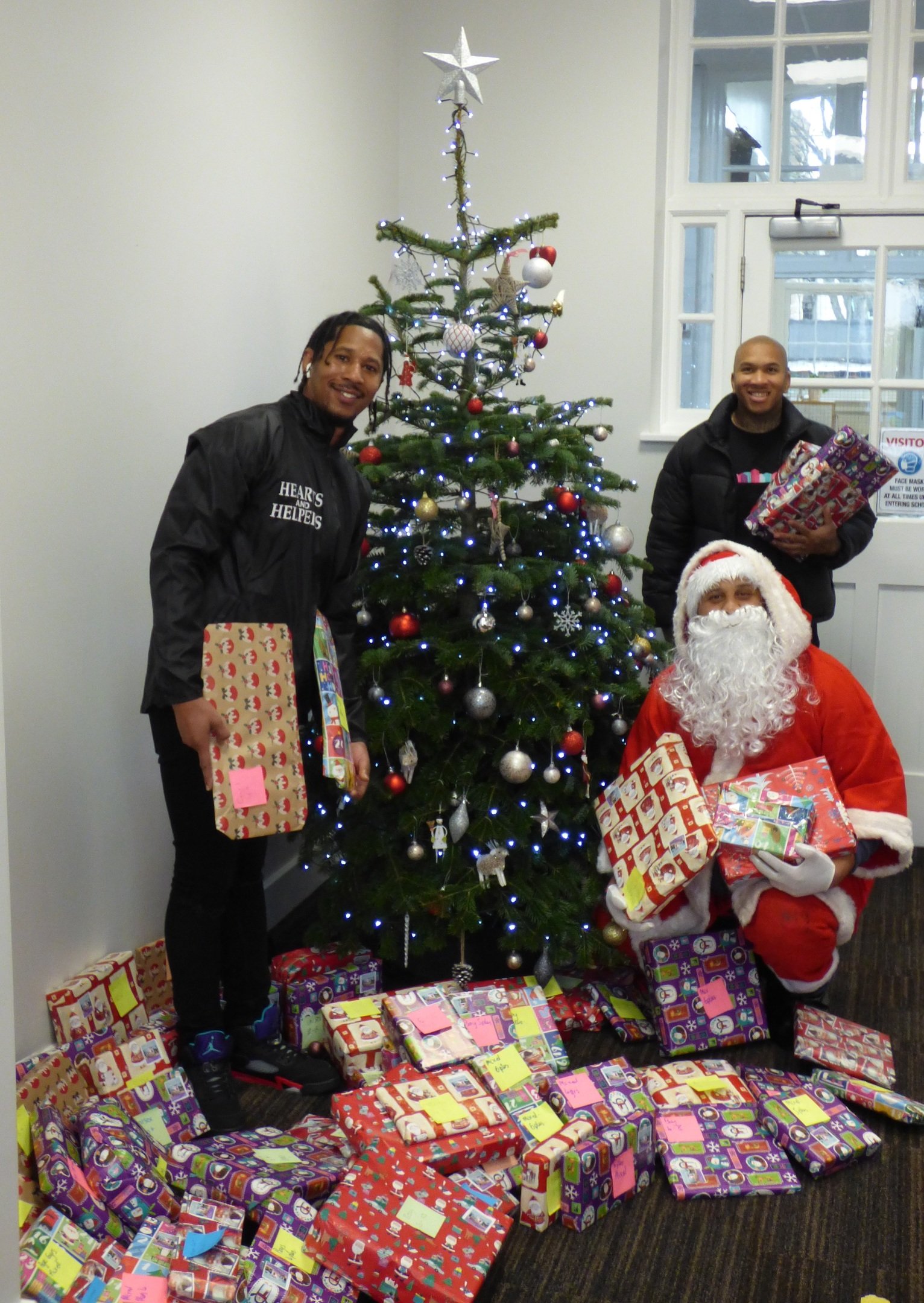 (L to R) Victor Shodiya, Hearts and Helpers Volunteer; Victor Shodiya, Hearts and Helpers Volunteer
Leon Pottinger, Santa; Adrian White, Founder of Hearts and Helpers