Enfield Music Service Open Day
Enfield Music Service Open Day
20 September 2018 (by F Singh (fsingh2.308))
BHP have got their dancing shoes ready for "Making music, make a difference" with Enfield Music Service. Open day Saturday 29th September at Houndsfield School, N9 7RA..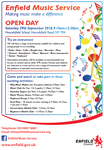 Try an instrument
We will have a range of instruments available for children and young people to try including:Violin, Viola, Cello, Double bass, Recorder, Flute, Clarinet, Saxophone, Oboe, Bassoon, Brass instruments, Guitar, Keyboard.
Information and advice will be available on instrumental/vocal lessons in schools and at other EMS venues. Parents and children are welcome to come and try out a range of instruments under the guidance of specialist instrumental tutors.
Come and watch or take part in these exciting activities:
• Mini Music Makers (for Reception children), 9.30am-10am
• Music Club (for Year 1 & 2 pupils), 11.30am-12.15pm
• Saturday Singers (for Years 3-6 pupils), 10.20am-11.20am
• Music Theory classes, 10.45am and 12.05pm
• Keyboard Group, 9.15am-10.15am
• Steel Pans – 30 minute sessions starting at 9.30am, 10.15am,11am and 11.45am
• Intermediate Ukulele Club – 9.25am-10.10am
• Beginners Ukulele Club – 11.45am-12.30pm