District Athletics Championships
District Athletics Championships
17 July 2018 (by F Singh (fsingh2.308))
24 children from KS2 were selected to represent the school at the annual Primary Schools District Athletics Championships at Lee Valley Athletics Centre.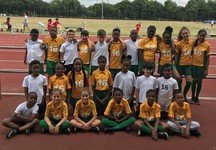 Every child gave 100% and proudly represented Bush Hill Park School, as a result of which we had some fantastic results. Overall as a school we finished 7th in the championships and 6 children managed to win gold medals on the day as well as a number of 2nd and 3rd places. Well done to all the children who took part; you should be extremely proud of yourselves!!
1st
Trevelle - Year 4 hurdles
Arda - Year 6 sprint
Kevin, Ersid, Obinna and Arda - Year 6 Boys Relay.
2nd
Bradley – Year 4 Sprint
Shanyla – Year 5 Sprint
Victor – Year 5 150m's
3rd
Ikenna – Year 3 Hurdles
Ersida, Emeraude, Trevelle, Bradley – Year 4 Relay
Kevin – Year 6 600m's