'Take One Picture' Art Exhibition
'Take One Picture' Art Exhibition
2 July 2018 (by F Singh (fsingh2.308))
Visual Art is vital to our curriculum as it enables our children to become creative learners who will be fit for the ever-changing world they'll enter into as adults.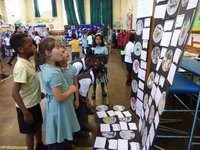 Last Friday 22nd June, BHP held their first 'Take One Picture' Art Exhibition following our Arts Fortnight. Launched in 1995, 'Take One Picture' is the National Gallery's countrywide scheme for primary schools which aims to inspire a lifelong love of art and learning by promoting the role of visual arts within education.
Each class across our school was encouraged to focus on one painting and free to respond creatively to its themes and subject matter, historical context, or composition.
The variety of responses was incredibly imaginative: ranging from a puppet theatre, to drama, to photography, to painting, to sketches, to masks and to sculpture. It was so wonderful to see the thrilled and proud responses from both pupils and their parents/carers to an exhibition of their own work.