MP Joan Ryan visits our school
MP Joan Ryan visits our school
20 March 2018 (by F Singh (fsingh2.308))
On Friday 9th March, Joan Ryan the Member of Parliament for Enfield North visited our school. We were proud to introduce her to our wonderful children and staff.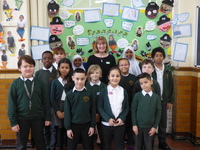 The morning started with a tour of the school. Mrs Ryan congratulated us on our recent OFSTED judgement of GOOD. She was impressed by the excellent learning and behaviour she saw in all the classrooms. Mrs Garrad and Mrs Husband had the opportunity to talk to her about some of the exciting things that are happening at the school.
Later on in the morning we held a special assembly where the children asked Mrs Ryan a number of challenging questions. It was interesting to learn about her career as a teacher before becoming an MP. We also learnt what she likes to do if she has any spare time.
Thank you Joan Ryan MP for taking the time to visit us.