A "Rainbow" Non-Uniform Day
A "Rainbow" Non-Uniform Day
4 December 2017 (by F Singh (fsingh2.308))
Friends of Bush Hill Park Primary School will be holding their 'Rainbow Day' Non Uniform Day when children can attend school in their own brightly coloured clothes.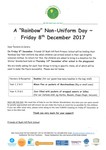 In return for this, the children are asked to bring in a donation for the Winter Wonderland held on Thursday 14th December after school in the playground. We are kindly asking for each year group to being in specific items, all of which will be used to make the Fayre successful. Please see the picture for the full list.
Thank you very much for your support, Friends of Bush Hill Park School.